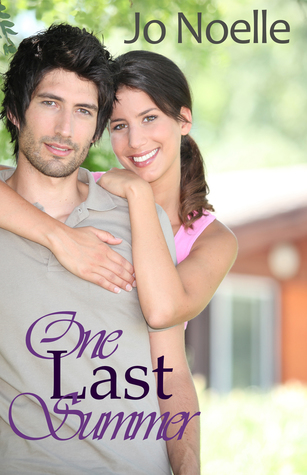 TITLE: One Last Summer
AUTHORS: Jo Noelle
ISBN13: 9781370745487
PUBLISHING: Jo Noelle
RELEASE DATE: February 4th 2017
PAGES: 100
GENRE(S): Novella, Romance, Clean Romance, Contemporary
SYNOPSIS:
MY RATING:
STAR RATING: 2.5 **
"MOVIE" RATING: PG
MY REVIEW:
This was a much shorter story than I anticipated and was a very quick read. Just it was more of a novella, it made sense that the story had to be rushed at some points but at others I was a bit confused why they had to happen at all. The story is about best friends who spent summers together working at a small cabin resort in Washington. They realize their feelings for each other and Cole has shared his feelings with Jenna but she is too afraid that she'll end up like her mother. Who happens to be on her seventh marriage? Something wild like that. There was a bit of humor here as well as clean romance. I thought it was fun that there were some "sayings" that Jenna kept thinking about when the moment was right of different things that her mother would always say. They were pretty interesting and funny too.
I felt that this novel was one of the cheesiest that I've ever read. I couldn't really take it seriously and had a hard time connecting with the characters because I simply couldn't believe what was happening. The story was pretty predictable and easy to get through but I felt that there wasn't enough conflict within Jenna. She admitted her feelings for Cole right from the start and there wasn't much depth of plot.
I give this about 2.5 stars, but I'll round it up a bit. It was a sweet story but there were definitely some things that bugged me about it more often than I would like.
ABOUT Jo Noelle:
Jo Noelle grew up in Colorado and Utah but also spent time in Idaho and California. She has two adult children and three small kids. She teaches teachers and students about reading and writing, grows freakishly large tomatoes, enjoys cooking especially for desserts, builds furniture, sews beautiful dresses, and likes to go hiking in the nearby mountains.
Oh, and by the way, she's two people–Canda Mortensen and Deanna Henderson, a mother/daughter writing team. We write sweet romance stories with contemporary, paranormal, fantasy or time-travel twists. Visit Jo's site at https://sites.google.com/site/authorj…
Our personal blogs are at http://www.candamortensen.blogspot.com/ and http://deannahenderson.blogspot.com/