TITLE: Under the Tuscan Sun
AUTHORS: Frances Mayes
ISBN13: 9780767900386
PUBLISHING: Broadway Books
RELEASE DATE: September 2nd 1997
PAGES: 304
GENRE(S): Travel, Nonfiction, Autobiography
SYNOPSIS:
MY RATING:
STAR RATING: 2 **
"MOVIE" RATING: PG
MY REVIEW:
This book was a tough one. I was constantly going back and forth between liking this book and hating it. I struggled with the writing and the way she just jumped from thought to thought without a lot of flow. Granted, the chapters usually had a theme or idea she wanted to convey. So that was helpful. However, there were times that I loved the way that she described such simple things we people of earth don't notice too much these days. People, places, the way a flower grows in constant wind, the life of a fig wasp, or just the way life is. She truly captured some beautiful things in this book and I kept with this book because of the beauty that she saw in life.
Obviously this review is hard for me to write because I've been thinking about this book for WEEKS before, during, and much after I finished.
First off, for those of you who have watched the movie… This is nothing like it. Sure, the main idea of a woman who loves Italy, buys a house in disrepair and puts a lot of work and effort into bringing it back to life. But that's where the connection stops. Trust me. If you want to read this book, like I did, based on how much you loved the film, you will be sorely disappointed.
Secondly, I love Frances Mayes' brilliant idea of having a second home that's really the first. A place that you can do things you wouldn't normally do day to day or somewhere you are completely immersed in a different culture. The idea scares the sweat out of my pits but also plants this tiny seed of curiosity and adventure that quickly grows as fast as a shrink towel placed in water. It creates such an escape!
However, I found that I wasn't able to connect with her as much as I wanted to. As much as I am in love with her idea and quick action, I feel that her writing made it hard to really understand her. Of course I felt the beauty she saw and experienced in Italy and really wanted to be hiking with her, staining the floors in the living room with her, or picking olives to be pressed with her. But the more I reached, the more I was shut down. Usually abruptly. She changed topics so quick and didn't complete many stories or thoughts that I thought would have been more interesting to continue that I slowly pulled back.
It bugged me that she didn't explain some of the Italian words she included. Some of them, yes, she included. Others, no. Since I don't speak much besides English, it was difficult to understand what she was saying… (duh). This book was such a battle that I ended up losing dramatically and drastically when I reached the last page. I had to skip some pages near the end altogether because her stories got pretty dark and I felt very uncomfortable reading about her glorying in the way some Catholic saints died. It unnerved me a lot.
So, my conclusion here is: the movie is a whole different ball game, couldn't connect with the author, difficult to understand some stories or thoughts, the battle of a single thought ended quickly and started again on another, and I just got fed up with it when I reached the end. I loved the beauty in her descriptions of people, places, life, and the things but that was about it. Lots of beauty. If there wasn't, I would have quit the book or given it fewer stars. Good luck to all who attempt this. May the force be with you.
"I received this book from Blogging for Books for this review."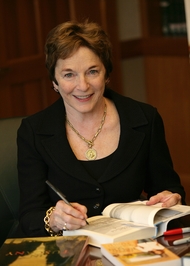 ABOUT Frances Mayes:
Frances Mayes's new book is Under Magnolia: A Southern Memoir , published by Crown. With her husband, Edward Mayes she recently published The Tuscan Sun Cookbook. Every Day in Tuscany is the third volume in her bestselling Tuscany memoir series.
In addition to her Tuscany memoirs, Under the Tuscan Sun and Bella Tuscany , Frances Mayes is the author of the travel memoir A Year in the World; the illustrated books In Tuscany and Bringing Tuscany Home; Swan, a novel; The Discovery of Poetry, a text for readers; and five books of poetry. She divides her time between homes in Italy and North Carolina.